David Hallam Ltd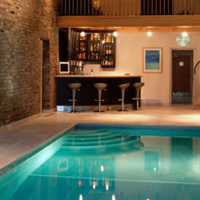 With over 35 years of in-house design and build experience, together with our unrivalled technical ability, we offer our clients a unique service to bring their swimming pool ideas to life.
We work closely with architects and interior designers to devise your pool size, profile, depth and source a suitable location.
Our fully computerised drawing office has the capability to deal with the ever-increasing demand from architectural practices for more ambitious schemes, from classic to contemporary.
Once your pool project is complete and commissioned, our Premier Swimming Pool Maintenance Service is at your disposal. This first class nationwide after-sales service includes fortnightly visits to your premises in order to maintain your pool in pristine condition