Energy Saving Pools
In times where energy costs are going through the roof, people are looking for more efficient ways of heating their pool water and pool hall air heating.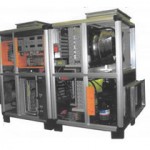 We at David Hallam Ltd are certainly aware of this problem and have recognized the need to lower running costs of your pool. Modern technology has allowed low running costs to become possible with massive energy savings up to 70%.  The following could save you money running you pool –
Heat retention foil pool cover

Air to water heat pumps

New generation of Air Handling units that have integral
heat pumps and heat reclaim

Ground Source Heat pumps.
For more information please contact us.